The Skylight Installation Specialists Serving the Entire Merrimack Valley Area & Beyond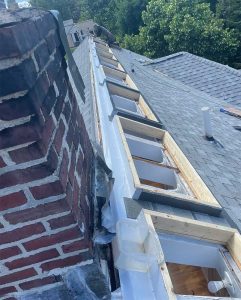 A skylight can brighten and enhance a home like nothing else can, adding a touch of light that helps liven up an indoor space by bringing the outside in. If you're interested in investing in one or more for your home, turn to the skylight installation experts at Apex Roofing & Restoration LLC. We're a family-owned business with over 25 years of experience to our name, and we'd be happy to equip your home with new skylights that perfectly suit your wants and needs. Based in Massachusetts, we proudly serve the Merrimack Valley, Greater Boston, and Southern New Hampshire.
Best-in-Class Skylight Options
At Apex Roofing & Restoration, quality and reliability are a part of everything we do. That's why we offer top-of-the-line skylights from VELUX, an industry-leading manufacturer known for crafting products that are simply exceptional. Built with innovative leak-preventing technology and glass that lets in plenty of light while blocking unwanted outdoor noise, these skylights are the perfect addition to your home's roof. You can even choose the right style to suit your aesthetic and functional preferences, as our VELUX skylight selection includes options that are:
Solar powered
Electric
Manual
Fixed
From roof skylights designed for flat roofs to ones that provide the maximum level of daylight possible, we're sure to have the right skylight window option for you. And whether you're opting for skylights as part of a roof replacement or investing in a skylight installation as a standalone service, you can count on our team of highly trained experts to complete your project with the utmost skill and craftsmanship. What's more, adding a VELUX solar powered skylight and blinds means that you may be able to take advantage of the generous federal tax credit offered through 2034.
Learn More About Our Skylight Installation Service
If you're ready to invest in a brighter future for your home with a new roof skylight, Apex Roofing & Restoration LLC is the company to call. Contact us today to learn more about our skylight installation service for homeowners in the greater Merrimack Valley, MA, area, Southern New Hampshire, Greater Boston, and beyond.
Smart home, smart skylights Daylight and fresh air from skylights enhance every home, new or old. As a sponsor of the HGTV® Smart Home 2021, HGTV® Dream Home 2022 and HGTV Urban Oasis® 2021, VELUX® continues its commitment to beautiful and sustainable home design that promotes a healthy lifestyle through advanced skylight technology. HGTV, HGTV Smart Home, HGTV Smart Home Giveaway and …
When it is tax time: Fill out IRS Tax form 5695 and submit it with your taxes. Enter this tax credit off of form 5695 on your 1040 form. 1. IRS Notice 2009-41 suggests the taxpayer is not required to attach this certification statement to their tax return. As in all tax matters, the taxpayer is advised to consult their tax professional.